Featured Item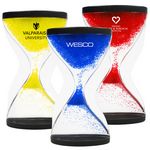 Upside Down Liquid Sand Timer (Pad Print...
Upside Down Liquid Sand Timer (Approx. 6 minutes): ~ Vibrant colors ~ Reverse action that will grab anyone's attention ~ Sand travels up, not down ~ A very unique piece ~ Request to have your logo Pad...
$5.25 - $5.99
Welcome!


With over 40 years of experience, we have the knowledge and skill to furnish quality products from awards, plaques, and trophies to promotional products that say "Thank You" for your past business. Our sign department can furnish nearly any type of sign from promotional banners & vehicle markings to office & building signage. As a family-owned-and-operated company you can be sure that we are dedicated to achieving 100% customer satisfaction with our superior service, state-of-the-art equipment and the newest technology available in the industry today, we feature quick turnaround. While nearly all of our products require some type of personalization you can be certain we will always furnish the fastest delivery possible. We pride ourselves in our service.
FOR SIGN OR GRAPHICS AND PRINTING INFORMATION PLEASE CALL OR EMAIL US.